Podcasts
Listen here or subscribe on your favorite platform.
PLANNING
Update on Diagnosis and Treatment of Alzheimer's Disease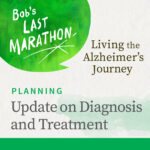 Dr. Steven Arnold explains the underlying causes of dementia, some of which are treatable, and outlines the process for arriving at a diagnosis. He offers an overview of recent developments in anti-amyloid immunotherapies. He puts amyloid and tau—and the presence of plaques and tangles—in perspective as he explains what we know about Alzheimer's disease today. According to Dr. Arnold, data from amyloid immunotherapies tells us that Alzheimer's dementia is driven by more than amyloid plaques and tau tangles. He suggests that for people with dementia, our most effective treatment at present is good care, and that lifestyle and diet changes can help optimize brain function for everyone.
March 8, 2023 ● 14 Min 23 Sec ● TRANSCRIPT
Browse by category
What's important to our loved ones' well-being? How do we integrate these key elements into day-to-day activities? How does day care compare to home care? What about long-term care?
How do we plan daily routines to help our loved ones stay engaged and healthy? What about caring for ourselves? How do we respond to our loved ones compassionately, at all times? What roles can art, music, and cognitive training play in our loved ones' well-being?
Whom can we turn to when we need help? What are community resources we should know about? What can we expect from our family? Our friends? What roles can support groups play in our caregiving? Should we participate in clinical trials?
Denial can get in the way of moving forward. How do we recognize signs of denial and how do we overcome it? How do we begin to think about the tough decisions ahead of us? What happens when we face difficult and perhaps aggressive behavior?