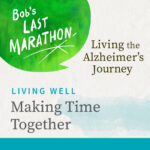 Finding ways to stay socially connected can be challenging at any age—but it may be especially difficult for people living with dementia. Felicia Greenfield describes the Time Together program, pioneered at Penn Memory Center, which matches older adults living with dementia with college students, with the goal of filling the gap when meaningful social engagement is hard to find, and offering respite for the family caregiver.
Tell us what you think about this episode.
Was it helpful to you? What other topics would you like us to cover?
Leave a comment