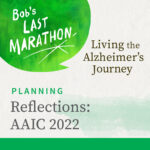 Highlights from the 2022 Alzheimer's Association International Conference offer insights into facets of dementia care and moves toward solutions for risk reduction, more accurate diagnosis and treatment. Katie Brandt describes an ongoing study at Mass General Hospital showing how education and support can improve readiness for advance care planning. Also of interest are social determinants of health and their potential impact to increase or reduce the risk of dementia, pointing out loneliness as a public health issue.
Tell us what you think about this episode.
Was it helpful to you? What other topics would you like us to cover?
Leave a comment