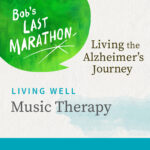 Kristopher Hong, music therapist, talks about how he uses music as a tool to facilitate therapeutic processes. Music can benefit people of all ages with a range of physical and mental capabilities. But it's especially helpful to those with Alzheimer's disease, dementia, and other neurological conditions.
Tell us what you think about this episode.
Was it helpful to you? What other topics would you like us to cover?
Leave a comment