Hospice—Our Personal Experience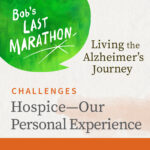 In this joint podcast, Judith Johanson, a member of the Alzheimer's Disease Research Center at Massachusetts General Hospital, and Lena Chow Kuhar, founder of Bob's Last Marathon Foundation, describe their experience navigating the end stage of life for their husbands, Steve Johanson and Bob Kuhar. They reflect on the decision making process as they transition to hospice—the challenges, self-doubt, and eventually assurance that their choice was one of love and compassion.
Tell us what you think about this episode.
Was it helpful to you? What other topics would you like us to cover?
Leave a comment