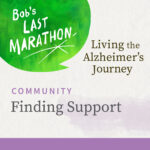 Felicia Greenfield, Executive Director of the Penn Memory Center, talks about the many ways caregivers can get the support they need, with an emphasis on support groups. She explains how finding connection and support can make all the difference in the well-being of the person with dementia, and their caregiver.
Tell us what you think about this episode.
Was it helpful to you? What other topics would you like us to cover?
Leave a comment