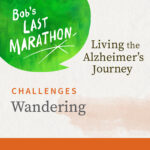 Alexandra Morris, gerontologist and Geriatric Care Manager, talks about wandering, a common symptom of Alzheimer's and other related dementias. Alex highlights some common triggers, and strategies for mitigating risks of wandering and for coping with it.
Tell us what you think about this episode.
Was it helpful to you? What other topics would you like us to cover?
Leave a comment