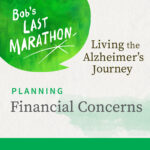 Nancy Galgoci offers guidance on navigating the financial complexities of the Alzheimer's journey, based on her professional and personal experience—as a CPA, an accounting professor, a volunteer, and as someone who has helped her family grapple with the challenges of Alzheimer's disease. She shares insights about applying for the Medicaid waiver program to cover custodial home care services.
Tell us what you think about this episode.
Was it helpful to you? What other topics would you like us to cover?
Leave a comment