Public Policies to Help Us Live Well with Dementia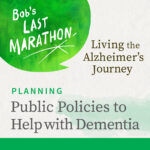 Dr. Jason Karlawish talks about living with dementia and disabling cognitive impairments in the context of today's public policies that places the burden of care on the American family, and points out gaps in today's public policies that must be remedied. He explains the concept of custodial care, and how long-term care services and supports are not included in Medicare. He speaks about the need to improve the quality of residential care and cites the success of government-backed programs in other countries. Additionally, Dr. Karlawish points out the importance of supportive decision making, and helping people in the early stages of the disease exercise their autonomy.
Tell us what you think about this episode.
Was it helpful to you? What other topics would you like us to cover?
Leave a comment