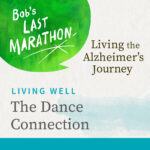 Natasha Goldstein-Levitas, a board-certified Dance/Movement Therapist, talks about how she uses dance/movement therapy to empower and encourage self-expression and ultimately to improve quality of life. She describes how the playful and shared experience of dance can improve mind-body connection, increase circulation, and sharpen focus.
Tell us what you think about this episode.
Was it helpful to you? What other topics would you like us to cover?
Leave a comment