Living the Alzheimer's Journey
Bob's Last Marathon is a podcast devoted to helping families and friends of people with Alzheimer's disease create the best life possible for their loved ones and themselves.
Each episode features firsthand stories from family caregivers and advice from professionals about facing familiar everyday challenges—while continuing to celebrate the essence of loved ones who bring light to our lives.
Subscribe on your favorite platform
Featured Episode
Living Well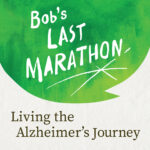 Lena recalls slivers of light when the Bob she knew and loved surfaced through his dementia, and contemplates the importance of savoring and nurturing our loved one's essence.
Mar 3, 2021 ● 11 Min 27 Sec ● TRANSCRIPT