Love, Living, and Alzheimer's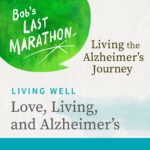 Lena reflects on Amy Bloom's book, In Love, in which Bloom chronicles her husband's decision to end his life when he was diagnosed with Alzheimer's disease. Lena recounts the steps that she and Bob took to live the Alzheimer's journey to the best of their ability, and the gratitude and joy they shared with family and friends.
Tell us what you think about this episode.
Was it helpful to you? What other topics would you like us to cover?
Leave a comment