A Person-Centered Approach to Caregiving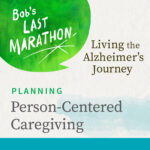 Noting that non-pharmacological approaches to care are considered the gold standard in caring for people living with dementia today, Felicia Greenfield explains the concept of person-centered care, what it is, and how to go about delivering it. Felicia cites the seminal work on dementia by scholar Tom Kitwood, who highlights relationship, uniqueness, and embodiment as the elements of personhood, or sense of self. She highlights the commonalties among models and practices of person-centered care, and shares six recommendations for delivering it. These include: really knowing the person with dementia—the unique and whole person; recognizing and accepting the person's reality; identifying and supporting ongoing opportunities for meaningful engagement; nurturing and building authentic and caring relationships; maintaining a supportive community; and evaluating care practices regularly, making appropriate changes as needed.
Tell us what you think about this episode.
Was it helpful to you? What other topics would you like us to cover?
Leave a comment