Let's Support Family Caregivers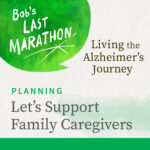 Dr. Venus Wong, a psychologist and a consultant at the Clinical Excellence Research Center at Stanford University, brings us up to date on policies and programs that support family caregivers—and steps that lie ahead. She reviews organizational and policy improvements at national and local levels to better support caregivers.
Tell us what you think about this episode.
Was it helpful to you? What other topics would you like us to cover?
Leave a comment