Beyond Plaques and Tangles 2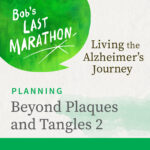 In this second of two excerpts from a recent Expert Roundtable on Alzheimer's Caregiving, Dr. Steven E. Arnold, Harvard Medical School, and Dr. Stephen M. Strittmatter, Yale School of Medicine, comment on current directions in drug development, notably drug repurposing as a way to accelerate the process, as well as the role of biomarkers in deepening our understanding of the disease, supporting diagnosis, and guiding clinical trials.
Tell us what you think about this episode.
Was it helpful to you? What other topics would you like us to cover?
Leave a comment