The Promise of Biomarkers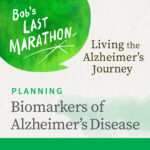 Dr. Steven Arnold offers a comprehensive overview of the expanding role of biomarkers in the diagnosis and monitoring of Alzheimer's disease and related dementias. Dr. Arnold notes that with new, highly sensitive and specific lab reagents and technologies, we can now detect the extremely low levels of tau, amyloid, and some other brain proteins that are produced in Alzheimer's disease and leak out into the bloodstream. And in the search for new treatments for Alzheimer's disease, biomarkers play an important role in expanding our understanding of the disease and enabling us to measure whether a new drug or other treatment is working.
Tell us what you think about this episode.
Was it helpful to you? What other topics would you like us to cover?
Leave a comment