Technology Options for Caregivers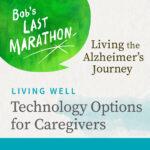 Stefanie Bonigut, LCSW, a care consultant and educator to family caregivers, offers an overview of technology available to caregivers and people living with dementia in many different ways–including communication and coordination across family, friends and professional help; improving safety through home monitoring; organizing medications, reminders for daily use and refills; tracking systems to make walking safer; help with misplaced or lost items; or online activities to enjoy while confined at home.
Tell us what you think about this episode.
Was it helpful to you? What other topics would you like us to cover?
Leave a comment