Caring for a Spouse with Dementia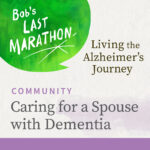 Dr. Barry J. Jacobs, a noted clinical psychologist, family therapist, and health care consultant, reviews some of the essential elements of spousal dementia caregiving: sensitivity to the dignity of the person with dementia; the need for patience, flexibility, and creativity; and the occasional well-intentioned use of white lies or even subterfuge to effectively provide protection. He recommends strategies for surviving this grueling and heart-breaking challenge of spousal caregiving.
Tell us what you think about this episode.
Was it helpful to you? What other topics would you like us to cover?
Leave a comment