After Diagnosis: Lifestyle Practices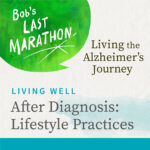 Dr. Steven E. Arnold, Professor of Neurology at Harvard Medical School, and Translational Neurology Head and Managing Director of the Interdisciplinary Brain Center at Massachusetts General Hospital, speaks about lifestyle practices he recommends for Alzheimer's patients at the time of diagnosis. These recommendations can also benefit the health and well-being of family members by reducing the risk of developing the disease.
Tell us what you think about this episode.
Was it helpful to you? What other topics would you like us to cover?
Leave a comment