Update on Diagnosis and Treatment of Alzheimer's Disease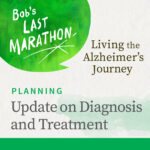 Dr. Steven Arnold explains the underlying causes of dementia, some of which are treatable, and outlines the process for arriving at a diagnosis. He offers an overview of recent developments in anti-amyloid immunotherapies. He puts amyloid and tau—and the presence of plaques and tangles—in perspective as he explains what we know about Alzheimer's disease today. According to Dr. Arnold, data from amyloid immunotherapies tells us that Alzheimer's dementia is driven by more than amyloid plaques and tau tangles. He suggests that for people with dementia, our most effective treatment at present is good care, and that lifestyle and diet changes can help optimize brain function for everyone.
Tell us what you think about this episode.
Was it helpful to you? What other topics would you like us to cover?
Leave a comment