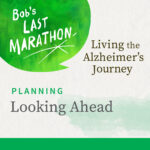 Lena reflects on how a health crisis prompted her and Bob to look ahead and make difficult but important decisions about their future medical care and financial plans. Planning helped Lena and Bob reflect on their priorities and gave them a sense of power to make key decisions, during a time when their lives were overtaken by a disease they couldn't control.
Tell us what you think about this episode.
Was it helpful to you? What other topics would you like us to cover?
Leave a comment