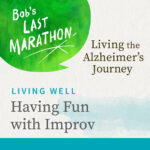 Dr. Jean Haskell, actor, educator, and facilitator of the Cognitive Comedy program at the Penn Memory Center. In this episode, Dr. Haskell shares her experience and insights about how improv can help people with memory and cognitive impairment have a little fun, exercise their memory muscle, and benefit from the feeling of community and social engagement. Along with group activities, she will also offer ideas for one-on-one exercises caregivers can use at home with their loved ones.
Tell us what you think about this episode.
Was it helpful to you? What other topics would you like us to cover?
Leave a comment