The Stages of Alzheimer's Disease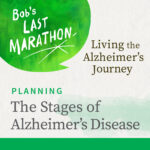 Felicia Greenfield, Executive Director of the Penn Memory Center, describes the stages of the disease, and how families endure the long journey of dementia caregiving through resilience and newfound sources of purpose and meaning.
Tell us what you think about this episode.
Was it helpful to you? What other topics would you like us to cover?
Leave a comment