Challenging Behaviors: Tools and Techniques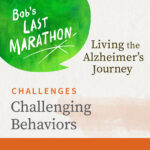 This second of two podcasts excerpted from the roundtable on tools and techniques of Alzheimer's caregiving uses a case study approach to show us how we can dig deeper to understand behavioral changes and identify ways to respond. Felicia Greenfield, Executive Director of the Penn Memory Center, and Stefanie Bonigut, formerly Family Services Manager with the Alzheimer's Association, are the speakers. Katie Brandt, Director of Caregiver Support Services and Public Relations for the Massachusetts General Hospital Frontotemporal Disorders Unit, is moderator.
Tell us what you think about this episode.
Was it helpful to you? What other topics would you like us to cover?
Leave a comment