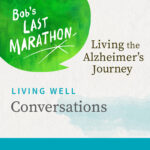 Alexandra Morris, a gerontologist and Geriatric Care Manager with 30 years' experience helping families to cope with dementia and aging in many settings, offers practical advice for having productive conversations with people who suffer from dementia.
Tell us what you think about this episode.
Was it helpful to you? What other topics would you like us to cover?
Leave a comment