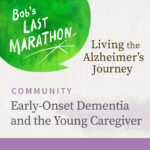 Katie Brandt narrates her personal journey as a young wife and mother navigating through early onset dementia of her husband Mike, who was diagnosed with frontotemporal dementia at age 29. She shares practical tips on mitigating financial challenges using federal and local programs to create a financial safety net until she was ready to return to work. She spoke of the value of an elder care attorney as she went through the process of planning for the future, and emphasized the importance of joining a support group.
Tell us what you think about this episode.
Was it helpful to you? What other topics would you like us to cover?
Leave a comment